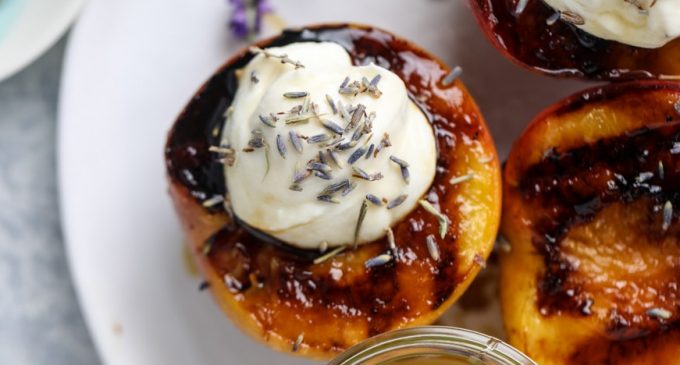 Here's everything you need for these delectably grilled peaches with lavender honey whipped ricotta. This recipe makes four servings.
Ingredients to Gather
1/2 cup honey
1 teaspoon dried culinary lavender, plus extra for sprinkling
1 cup whole milk ricotta cheese
4 peaches, sliced in half, pits removed
1 tablespoon coconut oil, melted
pinch of salt
Directions to Follow
Combine the lavender and honey in a saucepan over low heat. Stir and cook over low heat for 5 to 6 minutes, until the honey is thin and watery. Remove the honey from the heat and let it sit or 5 minutes. Use a slotted spoon or fine mesh sieve to remove the lavender pieces.

Add the ricotta to a food processor and blend until smooth and creamy. Blend in 1 tablespoon of the honey.

Brush the peaches with the melted coconut oil. Heat the grill on the highest setting and add the peaches, cut side down. Grill for 2 to 3 minutes, rotating the peaches once during cooking time. Remove the peaches, sprinkle with a pinch of salt and top each with a spoonful of the ricotta, then drizzle with the honey. Sprinkle on extra dried lavender if desired. Serve immediately!
Wow! This is one amazing dessert. Have you ever made grilled peaches? What do you think of this version? Have you tried it? Share your thoughts in the comment section below!
Source: HowSweetItIs