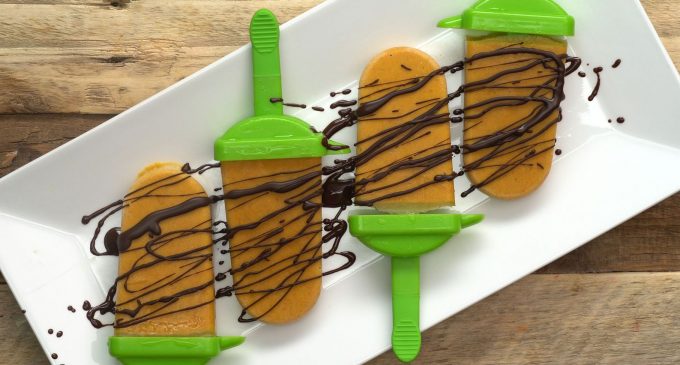 I am so ready for some relief from this never ending heat! I truly do love everything about every season, however, there is always that momentary discomfort when the season has reached the end and you are just over it.  With summer, while at first, I was super excited about the beach, cookouts, and family fun days there is something that happens when we reach that first week of August where something inside my brain flips a switch and I am ready for back to school, cooler weather and shorter days.
Transition times are always odd. You walk into stores and everything is fall decor and smells of pumpkin and orchards. You suddenly dream of days where you can break out the coats and scarves and hear the crunch of the leaves under your feet…only to walk outside and be hit with what can only be described as Mother Natures fiery furnace.
Needless to say, I was super excited when I stumbled across this next recipe. It is the best of both worlds combined into a lifesaving treat. Ladies and gentleman, I give you: PUMPKINSPICE CREAMSCICLES!
These amazing gifts are a slice of heaven and can help anyone survive this dreaded transition time between seasons. So let's take a look at what we will need in order to make these delicious icy treats.
Ingredients:
1 cup pumpkin puree
3/4 cup coconut cream
1 tsp pumpkin spice
2 tbsp maple syrup
1/2 cup chocolate chips
1 tsp coconut oil