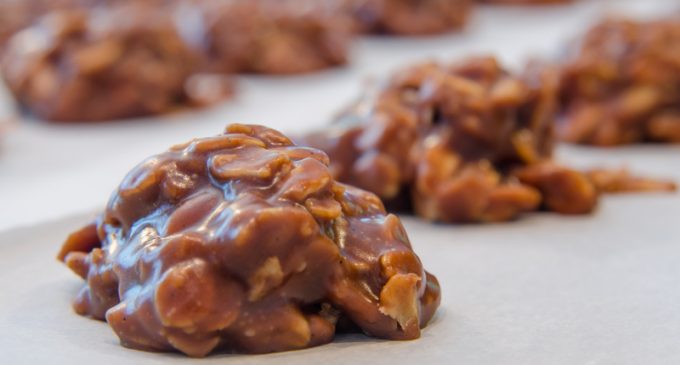 Here's everything you need for these mouthwatering peanut butter chocolate no-bake cookies. This recipe requires 10 minutes of active time and makes about 60 cookies.
Ingredients to Gather
2 cups sugar
1/2 cup milk
1 stick (8 tablespoons) unsalted butter
1/4 cup unsweetened cocoa powder
3 cups old-fashioned rolled oats
1 cup smooth peanut butter
1 tablespoon pure vanilla extract
Large pinch kosher salt
Directions to Follow
Start by lining a baking sheet with either parchment or wax paper, and then combining the sugar, milk, butter, and cocoa in a medium saucepan and bringing them to a boil over medium heat. Stir the mixture occasionally and allow to boil for 1 minute before removing from the heat, and then add the oats, peanut butter, vanilla, and salt. Stir to combine. Now, drop the mixture onto the prepared baking sheet in teaspoonfuls, and then let sit at room temperature for about 30 minutes, or until the cookies have cooled and hardened.
Did you grow up eating these like we did? What are some of your fondest memories of this beloved favorite? Share your thoughts in the comment section below!
Article Source: Food Network